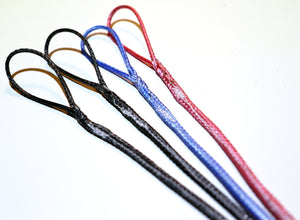 For our lines we use high end product of German manufacturer LIROS. 100 % Dyneema® SK99. It's the latest technology for flying line or bridle. Highest load capacity with minimal line diameter delivers the best in kite performance. Extreme stretch resistance, even after heavy loads, for precise control of the kite.
Lower lines diameter with higher load capacity and the newest coating technology is extremely important:
-in light winds lower lines diameter makes lower drag - kite performance better.
- in strong winds - higher load capacity makes you sure that your lines won't break when you're looping the kite or trying to break your woo best.
- even after heavy season your lines will perform like new. You don't have to worry about replacing you lines every year.
You can use the lines as a direct replacement for your original lines as all our lines have the original measures. We also offer you the opportunity to customize the material to your needs. In this case please contact us before purchase.
 You might want to get a set of pigtails.
If you're not sure what length to choose, you might want to read our article.
The price is for set of 4 lines.