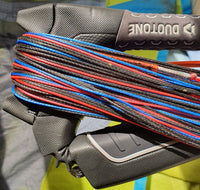 Plug & Play
 You can use the lines as a direct replacement for your original lines as all our lines have the original measures. Just choose your bar model and lines length. The replacing process takes up to 15 minutes, it's just "plug and play". 
Spliced & stitched
All ends of our lines are professionally spliced and stitched to maximize the lines strength and resistance.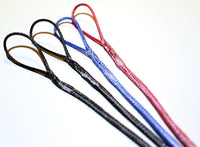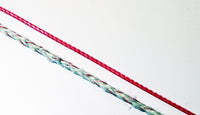 Old vs. New
Our lines are heavily coated, dense, have stiff feeling. In contrast, the seemingly larger diameter woven, lighter weight, larger diameter lines that at first seem lighter weight (density per unity length) but after some time & use get "fluffy" and may gain water weight and seem to drag a lot in water relaunch.
"...even though coated lines could be more dense and possibly heavier when dry the "fluffy" line competitors can hold a lot of water weight and big diameters will drag into a big-ol arc in the water or GRAB the top of a wave instead of cutting cleanly thru the wave.  Those big fluffy diameters surely slow the relaunch process..." ~Mark K.  from Moiser, OR. 
Upgrade your old TRUST BAR to the new 2021 model